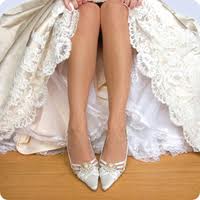 You have gone through a myriad of wedding gowns and made your choice.  Now, you can start searching for those perfect pair of shoes!   But just wait.  There are a few things you are going to want to consider before you head out the door to shop.  What color will look best with my dress?  What kind of shoes are my bridesmaids wearing?  Will my wedding budget allow Jimmy Choo's or PayLess?  Should I wear heels for the ceremony and flats for the reception?
"Beauty is pain" is NOT the phrase you want coming to mind when you look back on your wedding day.  You will be standing for long periods of time and hopefully dancing to your wedding songs for hours at a time so choosing sky-high heels may not be the smartest choice.  However, having comfortable shoes does not mean giving up style.  There are many cute options to choose from such as low heels, flats, or sandals, which are great for a beach wedding or destination wedding!  You may also want to buy two pairs of shoes; a trendy pair for the ceremony and flats for the wedding reception.  Or you may want to consider a pair of gel shoe inserts to help your feet stay as happy as you are on the big day.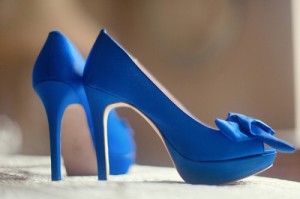 Color
Do you have an ivory gown?  Then you may want to reconsider that bright white pair of shoes that you had been eyeing.  Traditionally white shoes go with white gowns, cream with cream and ivory with ivory.  Have you decided to go with a metalic color, like silver or gold?  You may want to make sure that the shade you've chosen goes well with the shade of white or ivory you picked out for your wedding gown.  And don't forget, there's no law that says you can't can't be a bit of a rebel on your wedding day and go with something entirely different for foot wear color.  Have you worn blue your whole life?  Then consider blue shoes under that gorgeous dress of yours.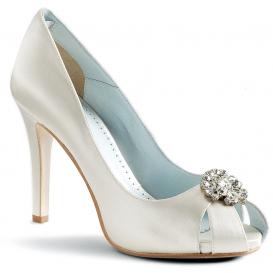 Remember your bottom line (hem that is)
The type of shoe you decide on should be brought with you to your fittings for your wedding dress, especially if the dress is floor length.  It may not seem like a big deal, but  whether you choose high heels or flat will effect where your hem falls.  Unfortunately, too many brides forget this tiny deal until their wedding day when they are staring in the mirror horrified to find out that the bottom of their dress does not fall where they meant for it to fall.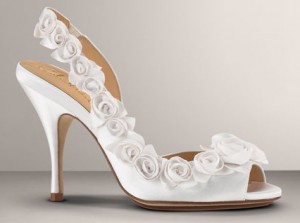 Balance
Brides want to achieve the perfect balance on their special day, so creating the balance between understated and glamorous is important.  If your wedding dress is ultra flashy with a lot of detail work, consider buying a more simple pair of shoes.  It is also important to keep in mind the detail work on your dress and make sure it does not clash with the detail work on the shoes.  Choosing the same bead, pearl, rhinestone, or crystal accents on shoes, bags, and jewelry can create a nice balance, as well.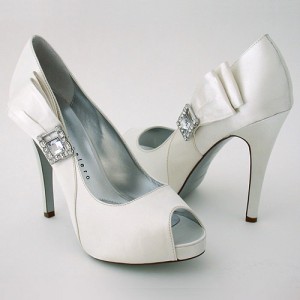 Venue
The place you choose as your wedding venue is also a big factor when buying your wedding shoes.  Outdoor weddings can make it difficult to wear super high heels without falling or tripping.  If your ceremony will be on grass or a beach wedding, consider wearing a pair of flats, sandals, or going barefoot.
Keep these tips in mind while shopping and you will end up choosing the perfect pair of shoes for your wedding day!
See some of our best bridal shops to help you find the right pair.