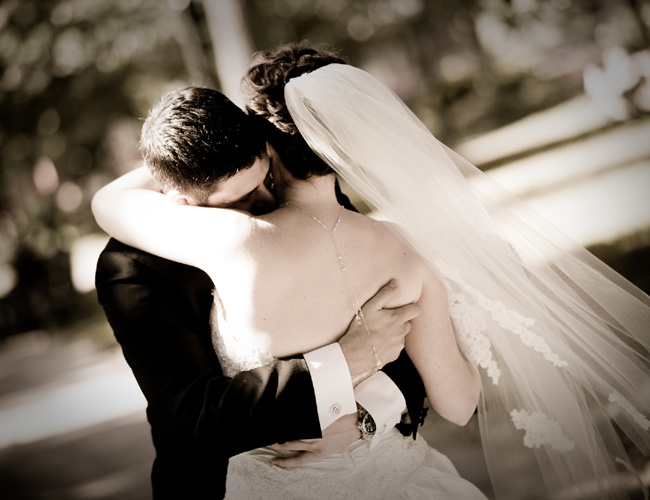 (Photo courtesy goes to Baiada Photography)
When it comes to your wedding photographs you want them to look beautiful and memorable, right? Well, in order to make that happen we suggest using a professional wedding photographer. Some couples may think that photographers know what the couple wants; however, that is not always the case. It is important to get to know your wedding photographer because he/she will be capturing your memorable moments. We provided you with a list of various questions you may want to ask your wedding photographer:
1.)    What type of camera will the photographer use?
2.)    Which person from your team will be taking the photos at my wedding?
3.)    What styles do you specialize in? Do you do any creative shoots?
4.)    Do you use an assistant? Will the assistant be there on the day of my wedding?
5.)    Have you worked at my wedding location before? Did it work out?
6.)    Approximately how long will it take for the photographer to capture the photographs?
7.)    How many photographs come in each package?
8.)    Will you accept a list from me displaying my must haves?
9.)    What attire will the photographer wear?
10.)  What types of photos will be taken ( Black and White, Color, Antiques, etc.)?
11.) How long after the wedding will the proofs be ready?
12.) How far in advance do I need to book with you?
13.) Do you have a portfolio that I can see?
14.) Will you put together a slideshow of the ceremony?
15.) May I have a list of references?
16.) Are you shooting in digital or film format or both?
17.) How would you describe your photography style?
18.) How many weddings have you shot?
19.) What do you think distinguishes your work from other photographers?
20.) Are you shooting other events on the same day as mine?
Take some time to get to know your wedding photographer. Meet the person who will be taking your photographs before the wedding. Remember, they will be capturing those special moments at your wedding!
Browse our list of top photographers here!