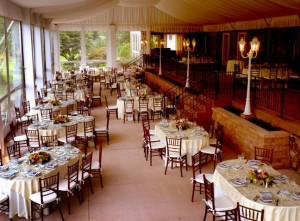 Finding a reception venue can be fun, but frustrating!  But, by doing thorough research on specific locations you can easily find your perfect wedding venue.  There are a few things that you need to figure out even before looking at a venue. You will need to have a wedding budget, decide on the type of wedding you want to have and have a rough count on how many wedding guests you will be inviting. When researching venues, you should be looking at specifics such as, whether having an outdoor ceremony is a must or if valet parking is essential, as you will need to make sure these things are accommodated at your wedding venue.
Save yourself time and frustration and only look at venues that are within your wedding budget. Research their wedding packages– what do they include? It is important to make an appointment to talk to their Wedding Specialist and visit the location. This will help inspire your decision by seeing the property in person. Use our location directory to help you find the perfect venue you are looking for!
Our wedding planning tools will help you get a head start on planning your wedding, find them here!