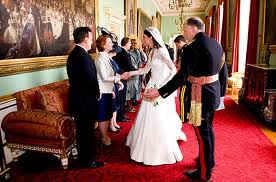 In the blink on an eye your wedding day will have passed you by before you know it.  Sometimes the biggest fear of a bride it that she won't be able to see/thanks all of her guests that came to support the union between her and her spouse. One alternative instead of having to run around all night trying to greet and thank everyone you invited is to have a receiving line.  By incorporating a receiving line into your wedding this not only gives you and your husband the opportunity to greet and thank everyone but it also ensures that none of your guest feel they have been ignored. A receiving line is most appropriate when having more than 50 guests in attendance because it allows you individual face-time with each guest that you've invited.  If you choose to have a receiving line in your wedding, it generally consists of; you, your husband, your new in-laws and your parents and takes place right after the ceremony.  A receiving line   form right after the ceremony because not everyone will want/be invited to the reception.   This way, proper etiquette will be shown due to the fact that all of your attendees will be thanked and have a face-to-face conversation with you, without you worrying about if you missed seeing someone.
Things to take into consideration when performing a receiving line:
-If you or your significant other have divorced/remarried parents, you want to be sure to go over with your groom what he feels is appropriate or what you feel is most comfortable for you if it concerns your parents.
-Make sure you play host and introduce you and your new husband along with his parents to guests they have never met before.