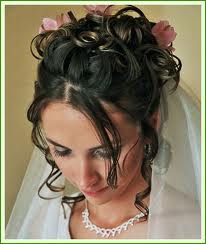 -An important question to ask a hairdresser before you hire them to do your hair on your wedding day is if they specialize in hairstyling or hairdressing. You may not think there is a difference among those titles, but there is.  A person that specializes in hair styles actually can create various "up-dos," flowing curls along with gorgeous waves that are all dependant upon your preference.  A hairdresser is your average person that can cut trim and highlight or color your hair.   This is an important distinction to make because sometimes hairdressers have very little experience with styling hair, leaving your lovely locks in the hands of an amateur.
-Another good question to ask is if your hairstylist has any past work complied into a portfolio to show you. This can give you a feel for his/her capabilities along with a couple of examples of the type of hair she can handle.
-Be sure and ask if they have any prior obligations on the day of your wedding.  If they have more than one event to go to on your big day, you may want to think about reconsidering them because the last thing you need is to feel as though your hair was rushed.  (Keep in mind the quicker the response to these questions the better.  You don't want them to think about what answer will make you most happy)
-Ask if your hairstylist will perform a test hair style a couple of weeks before your wedding. This is important because you can actually see his/her skills before your actual big day.  Also you can see if you want to change or modify anything to the hairstyle you have chosen if perhaps you decide that you don't really love it.
-Ask if he/she is willing to come to you or if you need to come to their salon.  Some brides don't mind going to the salon to get their hair styled, while others would rather stay in the comfort of their home.  This question is all dependent upon your preference.