Summer wedding trends that are popular for 2013 include prints for gowns and wedding decor, unique backdrops for the ceremony, eye popping centerpieces, familiar foods & lounge areas during the reception! Incorporate some of these trending ideas into your summer wedding!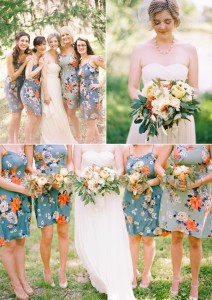 Prints are very big for 2013 and are appearing in weddings. Some bridesmaid gowns are incorporating floral, chevron, and polka dot prints on the gown. The print pattern should be in the same color palette as the rest of your wedding décor. Make sure that the print pattern will tie the wedding décor together.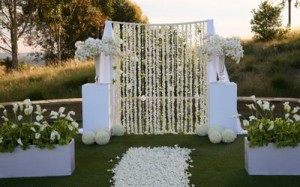 Creative backdrops during the ceremony are big for summer 2013. The backdrop for the ceremony will be your focal point. Think of some inspiring backdrops that work well with the theme of your wedding, such as the beautiful landscape of the property, elegant drapes of fabric, blooming flowers on an archway, streamers and more.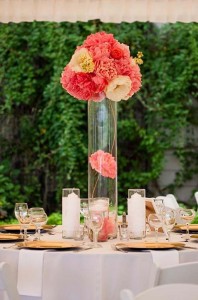 Eye candy centerpieces are trending for 2013. Unique and eye popping centerpieces include big colorful flowers, bird cages, tall vases and edible candy. Table centerpieces should resemble your wedding décor and wedding colors.
Who doesn't love traditional food? Wedding guests will love the all American traditional menu you have selected for your wedding. Appetizers can be as simple as french fry shooters, grilled cheese with tomato soup shooters or mini hot dogs! Desserts such as cookies with milk shooters, pancake skewers and mini milkshakes can be offered! The Americanized menu is definitely an option that your wedding guests will love.
Lounge areas are a big trend for 2013! Create an area during the hors d'oeuvre hour where wedding guests can lounge on couches, swings & big chairs while mingling with friends and family.
If you do not want to use one of these trending ideas, make sure to add both of your personalities into your wedding decor, it is your day!