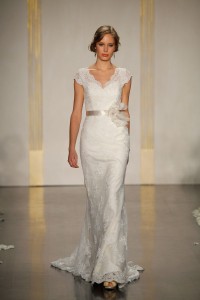 Finding the perfect wedding gown can be a process. Read these tips to ease your mind about finding your wedding gown!
Budget – It is very important to set your budget first. You want to make sure you stay within your budget when looking for the wedding gown of your dreams. If you don't shop within your budget you may end up falling in love with a gown that you cannot afford.
Shop Early  – Wedding Gowns are made to fit your body type. They will be altered and you can change something on the wedding gown by adding or taking off any beading or embellishments, you will want to shop early if you plan to do this. Most gowns take up to 4 months to be altered and custom fitted to your body. Start shopping 8 to 10 months before the wedding date.
Book an Appointment – Most bridal salons want you to make an appointment to take a look at their gowns. It is best to go during the week when most brides are not shopping for their gown. It will be less crowded and the sales staff will be able to focus only on you.
Browse Gowns in Magazines and Online – Before going into the bridal salon you should browse gowns in wedding magazines and online galleries. Find a style that you like and the type of fabric you want as your wedding gown. This will give you an idea what to look for when you go into the bridal salon to try on gowns.
Find the Style you want – What type of style do you want your gown to be? Elegant? Classy? Chic? Glamorous?
Be Open Minded – Keep an open mind of different styles and wedding gowns. Try on anything even if you don't like it on the hanger, it may be "the one" when you try it on. A salesperson may bring you a gown to try on, keep it as an option to try on.
Bring Accessories with you – Don't forget to bring a pair of shoes that are about the height you want to wear on your wedding day. Also, bring your veil or head piece to see what the complete ensemble looks like.
Read & Understand the Contract – When you found the perfect wedding gown you will need to read and sign a contract. Make sure you have read and understood the complete contract. Most salons have a no return policy since each dress is custom made to fit your body. The alterations will be made for just for you. Make sure the dress size, color, designer name, style number, and delivery date are written within your contract. Double check to make sure the number of fittings, the gown price, and the deposit are clearly written as well.
You do not want to get stuck once you have found your wedding gown. Now, take a breather and check that off the big list of "To-Do's"!