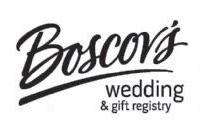 Looking for a store for your wedding registry that your precious grandmother in PA and your doting aunt in Delaware can both easily get to?  But a store that also offers a wedding website for the registry so that your crazy cousin in Las Vegas and your funny friend in Florida can shop online just as easily?  And do you remind yourself that as you are busy planning a wedding budget is not just important to you but to all your loved ones?  Then Boscov's Wedding and Gift Registry may be the ideal place for you!
Everyone knows that Boscov's offers good value for a good price.  But not everyone knows that besides being able to buy your wedding dress and your wedding rings at Boscov's, you can also avail yourself to their helpful sales associates who will be more than happy to help you build your registry checklist with the items that fit you and your future home the best.
You can even get started now by creating a registry for those wedding shower presents or that special wedding gift you've dreamt of.  You don't have to complete your choices as right now, just get started.  Then tonight you can curl up on the couch with your sweetie and choose the items that are right for the two of you.
Then when it's time for your loved ones to shop for the two of you, they have the freedom to do it in person or on line, knowing that the gifts they give you will be just what you were hoping for!  To find out more click here.