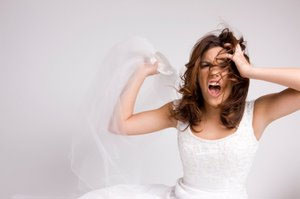 What do you do if a hurricane has just wiped out the resort where you had planned to have your destination wedding?  You know, the one you have already paid for?!  How about if your wedding rings went missing?  Or what if the travel agency that booked your honeymoon to Las Vegas just went out of business and left no forwarding address?  Worse yet, what if that happened to the shop where you bought your wedding dress?!  You're busy picking out a good wedding photographer and florist. Wondering who to sit next to whom.  Trying to figure out how to smooth your transition into the new family.  The last thing you should have to worry about is all of the disasters that are out of your control.  That is where The Reisen Agency comes in.  They offer affordable wedding insurance for all those unexpected, unforeseen disasters.
The average cost of a wedding is $27,000.  For as little as $160, you can help to protect a significant investment with no deductible.  No deductible and someone to turn to when things fall apart.
Don't think you need any wedding insurance?  Think about the following scenarios.
The week before the big day you contact your wedding venue to check on last minute details.  That's when you find out that they have lost your deposit.  The Reisen Agency will be there for you.
Your fiancée is deployed by the military earlier than expected, but the baker who is making your wedding cake (with the soldier on top) doesn't quite have empathy for your situation and isn't willing to give any of your (huge) deposit back.  The Reisen Agency can help you with that, too.
Contact The Reisen Agency today to protect your investments.  To protect yourself.
Find out more about The Reisen Agency here.