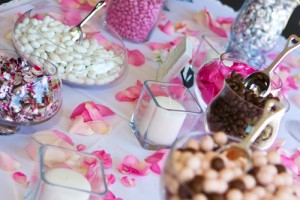 A candy bar is a great addition to any wedding. Grab a few of your favorite sweets and display them buffet style for your guests to enjoy. Find candy that is in your color scheme so that it will not clash with your wedding theme. Also, find numerous containers that will hold the candy, martini glasses, clear containers and other unique containers. Pixie sticks, foiled covered chocolates, watermelon slices, jellybeans and rock candy are all great for entertaining your guests.
The candy buffet is more of a décor option rather than a sweets table. The differentiation between colors and ways you display the sweets will be "eye candy" for your guests. They will notice the colors and set up which will make them walk over to the beautifully displayed candy table.
How much candy will be sufficient? If you are figuring out the amount of candy you need by the number of guests you are inviting, it may not be enough to have a gorgeous display that looks balanced. Figure 5 to 10 different types of candy and about 20 pounds of each candy. Work with a candy company that will help you find a sufficient amount of candies that will be eye catching and tasteful for your guests.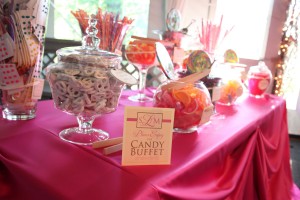 Candy buffets are a new trend that will here for a while. They are an easy "DIY" project simply by checking out your local craft store for clear containers, colorful fabric and buying bulk candy from a candy company. You are able to get creative and put both of your personalities into this unique, fun addition to a wedding. Gather your favorite old time candies and your grooms' favorites to find a personable sweet candy table!