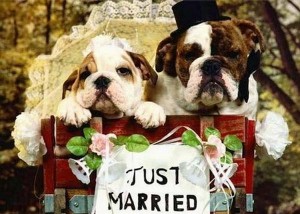 Our furry friends are probably our very best friends, so why not incorporate them into your wedding? Before making a permanent decision you will have to consider some precautions.
Is your dog friendly? Very affectionate? Outgoing? Or is your BFF skittish, scared, and not friendly? These things need to be considered before having your favorite pet in the wedding. In some cases your pet may be the ring bearer or the flower girl! There are cute tuxedo outfits and dresses for your doggie. If you don't think your pet will be behaved and obedient consider using a short leash or a wagon that your furry friend can ride down the aisle in. You may even want to think about a pet sitter – they will be responsible for taking your pet to the ceremony, taking him/her home afterwards or watching them during the reception.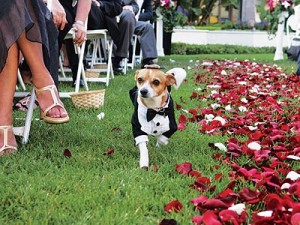 One of the biggest concerns you will have is making sure your pet is allowed at the ceremony/reception site. Also, you may want to add a line on your invitations or on your wedding website that you will be having your pet in the wedding. Guests who are allergic may want to make sure they come prepared before attending.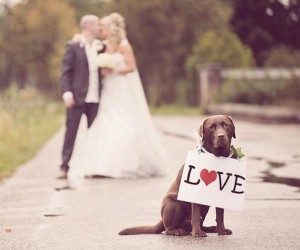 If having your pet in the wedding is out of the question, but still want your furry friend to be part of your wedding think about including them in your engagement photos, wedding photos, or incorporate them into the reception by adding photos of your pet as your table numbers.
Make sure you are cautious about the outfits you put on your dogs. For instance a bow tie or a flower accessory may be a choking hazard to your pet. Also, make sure that the plants or flowers you use are not toxic to your pup.
Inform your photographer about having your pet in the wedding photographs. They can come prepared to take action shots of you with your pet.