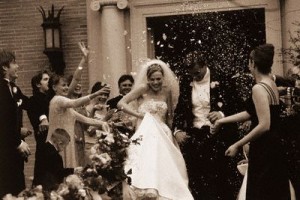 It's the most important part of your wedding day- the ceremony.  When you and your lovey exchange vows and promise to be true to each other forever and always.  You kiss and are announced for the first time as husband and wife.  You triumphantly float down the aisle smiling so much at each other that you barely notice anyone else in the room.  That is until you get whacked in the face with a handful of birdseed. 
The tradition of throwing something at the bride and groom as they leave the wedding venue goes as far back as Roman times, when the guests would throw some sort of grain, usually wheat or rice, as a symbol of fertility and prosperity.  For safety reasons and personal preference, what is thrown at the newlyweds has changed over the years.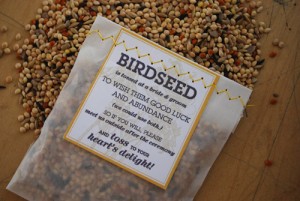 It is a common misconception that rice is dangerous for birds and therefore should not be thrown.  That is not entirely true.  It is dangerous, but it's considered more of a slipping hazard than harmful to our feathered friends.  Many wedding venues forbid the throwing of birdseed, too, for that reason. (Both are a huge pain to pick out of your hair and dress, too!)
Thankfully, there are many other options to consider other than rice and birdseed, and they can be really cute ways to tie in your ceremony program design and wedding reception theme.  A popular choice for Philadelphia brides today is having guest blow bubbles as you make your exit.  This makes for amazing photographs and because there is no clean-up it's sometimes the only option if you're having a church wedding since many churches do not allow anything to be thrown.  If that's the case, you can also consider having guests ring bells as you leave.  It won't have the same impact in photos, obviously, but it will be a great memory! 
If you're having a fall wedding, have them throw colorful leaves in the air, again possibly tying into a fall foliage wedding reception theme.  Similarly, if you're having a spring or summer wedding consider rose petals, fresh or dried, that come in a million different color combinations. If a winter wedding is more your scene, how about paper snowflakes or fake snow?  Again, run anything you choose by the location first, just to be sure they don't have any rules against it.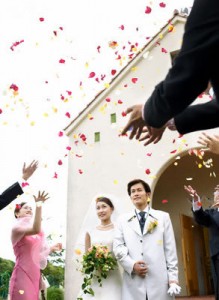 If you are getting married at night, having your guest hold sparklers as you leave your wedding reception venue adds some major drama to your event and the photo opportunity it provides is unmatched.  There is a risk of fire though so you'll have to be extra careful, especially in your large gown and flowing veil! 
Whatever you decide to have your guests do as you exit your wedding venue, whether it be blow bubbles, ring bells, or throw petals, just remember that as they do so, they are really wishing you many blessings in your years together as husband and wife!