The joining together of two lives as one, is commonly represented symbolically, by the traditional lighting of a Unity Candle during a wedding ceremony. It can also signify the union of two families and their love for the bride and groom. A representative from each family such as the mothers of the bride and groom, light two white tapered candles at the beginning of the ceremony. After the vows are said, the bride and groom each take one of the candles and use them to light together the Unity Candle; a larger white pillar candle. For a twist on the unity concept but still keeping with tradition, there are some other unique alternatives to unity candle to make your ceremony more personal to you.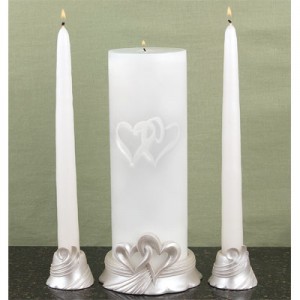 A sand ceremony, for example, uses two different colored glass pillars of sand folded in together into one larger glass container for a colorful, artistic mix. Colored sand to match your wedding theme or floral arrangements can be found at most craft stores along with glass pillars or vases. This sand art idea works well for outdoor weddings where a breeze is likely to blow out the more traditional candle flames.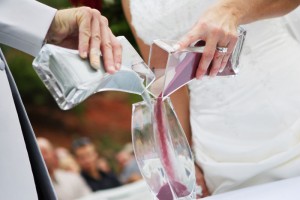 Along the same lines, is mixing two different colors of water from two separate glass containers, into one larger glass vessel. A completely new color magically materializes – a beautiful way to demonstrate the blending of two lives coming together in fluid motion. Two people joining together in love couldn't be better represented than through the use of either fire, sand or water; Earth's natural elements.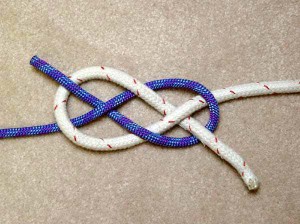 Another break from tradition is using two ropes, one for the bride and one for the groom, and tying them together as one, into either a sailors knot or fisherman's knot. 'Tying the knot', is the universal symbol for a marriage ceremony and love being at its strongest when tied together.